I have been playing games my entire life for mainly two reasons. To make up for my entirely lackluster social life and to experience worlds, characters, and stories you just can't experience anywhere else. Video Games have a unique way of sucking you into their worlds in a way a movie or book simply can't. Some would say it's magical…God this is sounding like a Disney movie.
Anyway, recently after all my years of extensive gaming, I discovered a whole new world of Video Games. A realm had never delved into until now. As you can, of course, tell from the title I am talking about the world of Virtual Reality. Now, thanks to a collaboration with Kim from Later Levels you can sit back and relax whilst I tell you all just why I've come to love VR so much over these past few months. 
My First Taste of VR…
The topic of VR is an interesting one, but personally, I believe Virtual Reality is the future of this industry. However, before I can fully explain my love for the wild world of VR we have to wind the clocks back…
All the way back to August when a friend of mine told me about a new VR game he was interested in playing. He asked If I had ever tried VR  to which I said no and he invited me round to his place to give it a go. 
Standing there with my jaw dropped for a solid 20 minutes and knocking into literally everything in his room like a prat surprisingly didn't even matter. I was totally drawn into PlayStations VR Worlds hub world. I wasn't even playing yet and already I was blown away.
One diamond heist later, a quick internship at a car mechanics and a fight with a fire breathing dragon and I was walking home slightly nauseous but totally addicted.
3 Months later and £400 out of pocket I bought my own PSVR and I can't say I've ever looked back since. VR is hard to describe to those who haven't had the pleasure of trying it, espcially for someone like me who is barely literate without a good gallon of coffee down him. I suppose the easiest way to describe it is that feeling we all get when we play a really good game. I mean a REALLY good game. When we just feel like we're part of this world, and it feels real and immersive. Well, up to now thats how EVERY VR game I've played feels. Even the games without a narrative or story, from the intricate to the basic, they all have some strange way of sucking you into their worlds. 
Rather than try and discuss the intricate workings of VR itself, instead, I want to talk about 5 VR games. The reason for forking out all that hard-earned cash. Completely different from one another, aside from their VR nature but all similar in the way they draw me in. I should point out these ARE NOT my top 5 PSVR Games, mainly because I haven't played enough VR games to properly make that list. These are simply 5 examples of VR games that are all completely different and yet all succeed at what they set out to do through the VR platform. So from outer space to the gritty back alleys of London strap in because this is going to be a wild ride. 
Blood and Truth – The Life Of Crime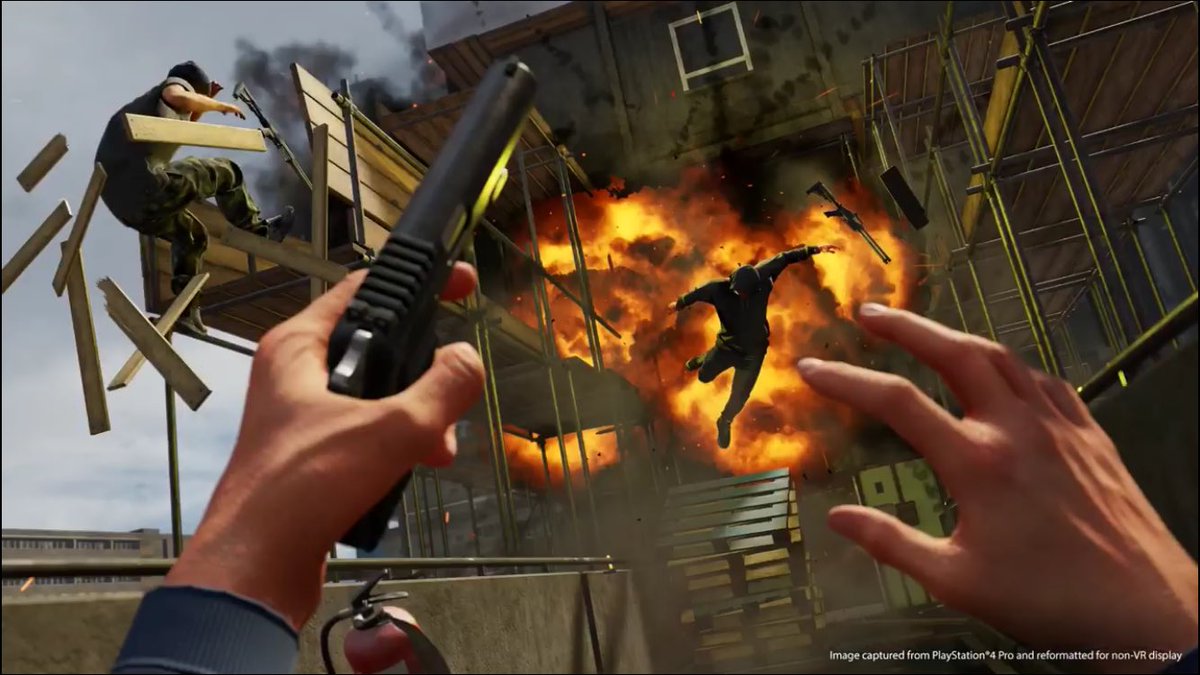 Blood and Truth. A first-person shooter developed by SIE London Studios and published by Sony Interactive Entertainment. Brought into existence after the amazing fan reception to the "London Heist Demo" featured in VR Worlds. The closest way I'll probably ever get to feeling like Jason Statham. Blood and Truth puts you IN your very own Hollywood blockbuster action film. The game does a great job of perfectly mixing amazing VR gameplay with a genuinely good story. Its narrative isn't mind-blowing, and it certainly isn't a lengthy experience, which you can look at as either a good or bad thing.
However its incredible set pieces, its smooth gunplay, as well as overall movement, combined with a cast of well-acted likable characters, genuine humor, and gritty real action. I absolutely adored my time in London through Blood and Truth. You feel like a genuine badass and even though some of the set pieces are a little OTT the game still feels grounded in realism.
In terms of gameplay is a little heavy for newcomers. What I mean by that is, some moments can be jarring if you aren't well versed in VR games. Jumping off buildings, car chases, and parachuting can be a bit much for your first time. So, probably not the best game to start off with, but after getting a good couple of hours in, Blood and Truth is a VR experience you simply can not miss out on.
No Mans Sky – Explore The Stars
No Mans Sky is probably the biggest turn around story in recent gaming history. A game that many of us were told lies about at launch, which had next to no content has done a complete 180. Free update after Free update has filled No Mans Sky with life, so much so that now Hello Games have developed a free VR update for PSVR owners. The ultimate space adventure, immersing you in not just one world but an entire universe. Harsh dry rocks, frozen wastelands, gas giants, black holes, space stations and dangers around every corner. Nothing comes close to that feeling of closing your cockpit, slowly grabbing the throttle, and blasting off the surface of a planet into the stars.
No Mans Sky VR offers a sense of scale and adventure I am yet to feel in any over VR game. It's by no means an easy space ride, with the flight, controls particularly being tricky to get to grips with. However, for seasoned VR owners, No Mans Sky VR feels like the ultimate space adventure which you simply have to try.
Driveclub VR – The Fast And The Ridiculous
Despite being an avid lover of cars, and an even bigger fan of Top Gear, racing games themselves have never really appealed to me. Completely a personal preference but I'd rather spend my time someplace else. Driveclub VR however, whilst still not being my personal VR game of choice, has done a fantastic job of truly bringing to life the motoring experience through VR.
A petrol heads dream, Driveclub VR pays beautiful homage to infamous and downright gorgeous cars, all whilst once again filling you with that feeling of immersion whilst you're in the driver's seat. Intense, high speed, competitive fun which can be played by all thanks to its incredibly easy to use controls using a DualShock 4. You even get to sit down whilst playing this one.
If like me you're an avid VR fan but aren't totally sold on a racing game you can always try the free demo through the PSVR demos pack. It's a game that caught me off guard but seriously surprised me.
Astro Bot – Platforming Through Space One World At A Time
Astro Bot is normally a game I would never play. Not because it's bad, or because it even looks bad because it doesn't. I wouldn't play Astro Bot because It's A.) not my thing and B.) without even picking it up I know exactly what to expect. Now whilst both of those statements are true, after putting some hours into Astro Bot I can't deny the game is addictingly fun.
The game which many said was PlayStation's answer to Nintendo's Super Mario, Astro Bot is a simple 3D platformer which is controlled through the standard old Dualshock 4. A game that simultaneously harkens back to Platformers of old whilst also adding its own modern twists, I really enjoyed Astro Bot. A fantastic game for newcomers to VR to try out. It's easy to pick up and incredibly fun to play with its own charming style. Its unspoken narrative only add to its simple but likable nature and its unique worlds which are full of collectibles make coming back to Astro Bot a joy. Well worth picking up if you have younger kids trying on your VR or even if you're just a simple fan of Platformers.
Beat Saber – A Game That Hits All The Notes…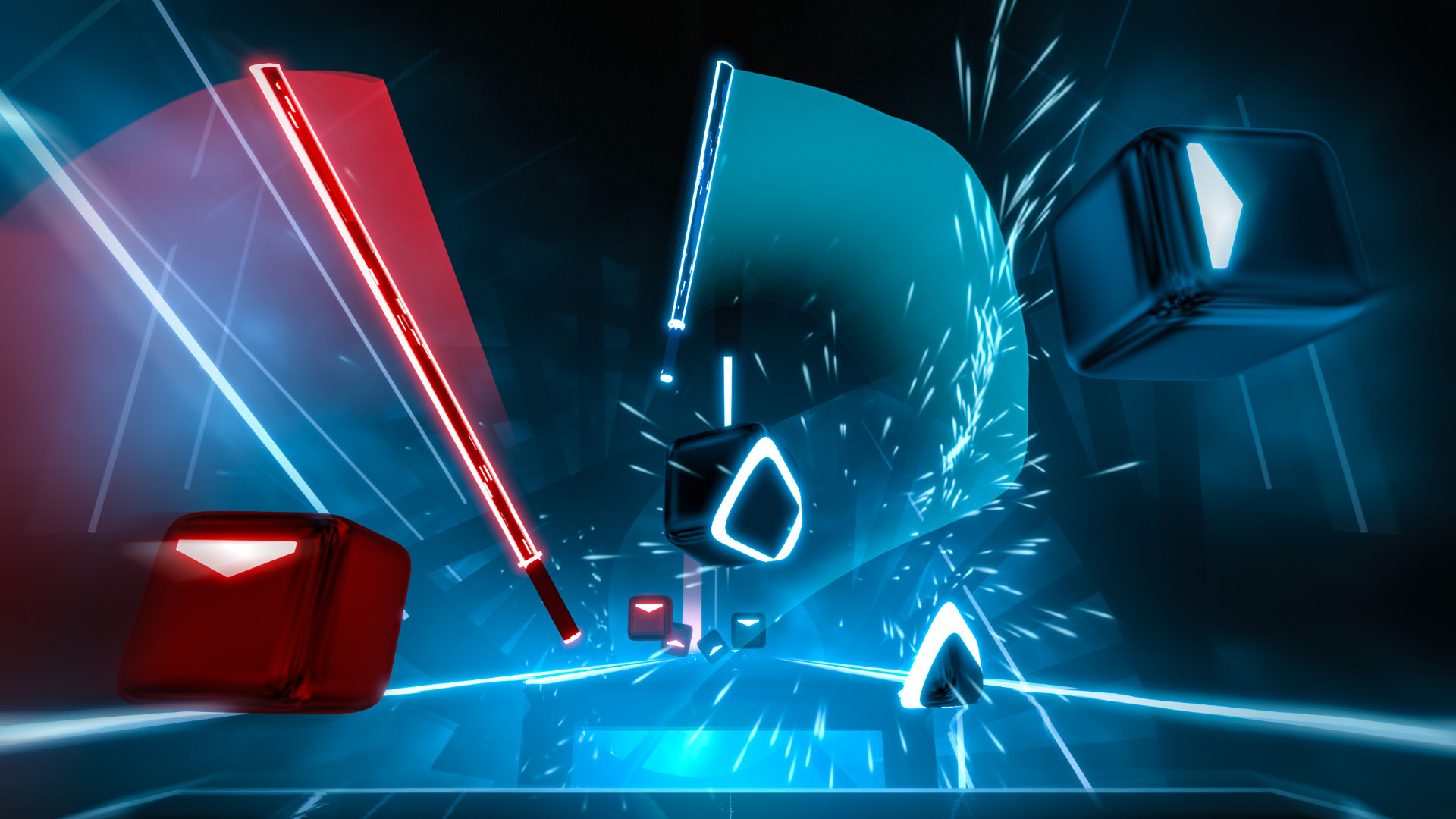 The final VR game I want to talk about is both the most infamous VR title and the source of that God awful pun above. Beat Saber. Certainly the most simple game I'm highlighting today and arguably the most addictive. Its a surprisingly simple use of VR technolgy espcially compared to the likes of Blood and Truth. It, like Astro Bot, is a perfect game to help introduce VR to new players.
Beat Saber's success widely depends on both your music taste and how competitive you are. If you enjoy the music and are desperate to get the highest rank Beat Saber may be one of the only games you play. It's certainly not for everybody but it is a VR game I absolutely knew I had to buy.
Like every game on this list, it too sucks you into its world but in its own special way. It doesn't boast realism and it doesn't transport you to a whole new world exactly but it does fully immerse you. Beat Saber is best played rather than explained and it is a perfect game to play against friends at a party or gathering, espcially with friendly leaderboards which allow you to compare scores.
Every single game I've mentioned today is completely different from one another and yet they are all exactly the same. They are VR experiences that fully suck you into their respective worlds and allow them to be experienced in a way that simply isn't possible anywhere else. I suppose thats why I love VR so much. Its a form of gaming I never expected to experience and one I never felt would feel so incredible.
Now you've heard me waffle on and fanboy over VR for long enough but Kim from Later Levels doesn't share my enthusiasm. She's written her own perspective on The Reality of Virtual Reality Games. Whilst you're over there why not stop by, say hello and give some of her other work a read. Go on, you may just enjoy yourself. Also, be sure to let us know where you stand on Virtual Reality either down below or over on Twitter.